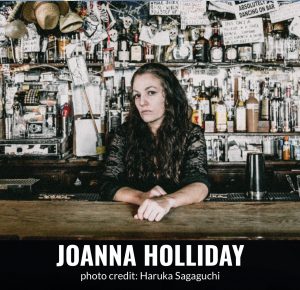 Joanna was born in Tarrytown, New York, yet at two years old, her attorney father, was transferred to a Philadelphia firm, and the family moved to Newtown Square, Pennsylvania. She is a graduate of New York University with a B.A. in Sociology, and also studied acting for more than 14 years, including completing the professional evening acting program at The Atlantic City Theater Company. There she learned how to read people, to react based on the truthfulness of the moment, a skill that proved the be essential in her future endeavors.
In 1994, Joanna was hired as a bartender at Doc Holliday's Bar, a honky tonk located in the East Village, New York, adjacent to Tompkins Square Park. The owners of the bar were players at the legendary underground poker playground, The Mayfair Club, and she heard stories about sleazy degenerate gamblers, bad beat stories, club robberies and raids, and the interesting players that frequented the joint. A few times, she was asked to fill in as a waitress at the club. She had little to no interest in cards, but the environment and lure of the club, intrigued her. She had no idea years later she would look back and wonder why the poker bug didn't come for twelve more years.
Bartending at Doc Holliday's, Joanna adopted a strategy intended to maximize the bar experience for the customer while increasing profits for the business and herself, being that she relied upon tips. Bartending is all strategy; knowing the customer, reading them, figuring out how they want to be treated, what sort of experience they are seeking, and how to make sure they have a memorable time. It's about relationships, creating a sense of community, throwing a party every shift, where all those in attendance will leave satisfied, craving to return in the near future. It's about intuition, reacting in the moment, predetermining what you will do in specific situations, thinking fast on your feet to diffuse problems before they happen.
It's not just selling drinks; it's about the interaction, the connection, helping people to feel part of the community, while tangentially contributing to your own financial results. You can't focus on your own financial gain, however, it distracts you from attaining your goals. If you focus on the sales, on having the best possible shift, then the tips naturally come. It's not about short term results, it's about establishing long term connections. You can't fake genuine interest in people; it's at the heart of everything. If you don't like people and catering to their needs, you shouldn't be in the service industry. You must be a people person and be totally aware of the whole of your environment at all times. You must be a listener, and absorb information and make decisions based on what you have observed. 
The variables contributing to a successful shift are many: the weather, the time of the month, holidays, events in the neighborhood, and so on. Every day is different, and you need to constantly be adapting in order to survive. This was the breeding ground for Joanna's endeavors into the ultra competitive, male dominated world of poker. Nothing will stop her.